Dental Implants in Fishers, IN
Missing Teeth? Why Not 'Grow' New Ones?
Dental Implant
Benefits
Dental implants are the ideal way to replace lost teeth. From the front of the mouth, where they are most visible, to the back, where they provide stability to chew a full variety of foods, dental implants can help you recapture a beautiful and healthy smile. Implants stimulate the jawbone, maintaining density and preventing the bone loss that often leads to a "sunken," more aged look. Replacing missing teeth with implants also improves function for chewing and talking, bringing added security and boosted confidence.
How Dental
Implants Work
Unlike bridges or removable dentures, which sit on top of the gums, dental implants are placed under the gums. The "tooth" placed on an implant appears life-like, because it comes through the gums just like the original did – it's like growing a new tooth! Implants can be used to replace any number of lost teeth. Even people with no teeth can benefit from implants, because they can replace their dentures with teeth that don't move around when they talk and don't need to be taken out at night. Because we handle the entire process from dental implant placement to crown fabrication, there's no need to be referred to another office.
Faster Healing – Naturally
Our implant dentist in Fishers are excited to offer our implant patients a new option called L-PRF™ (Leukocyte-Platelet Rich Fibrin) that promotes faster healing when implants are placed. This is a process that is 100% natural, using only a small blood sample directly from you. There are no additives of any kind, only a special process that immediately promotes natural healing at the implant site. It uses your own power to heal, just like when you scrape a knee. The special IntraSpin™ System is a centrifuge that separates important elements of your own blood – with NO chemical alteration and nothing added – and enables them to stimulate the healing process. When applied to the implant site, their healing ability significantly reduces your recovery time and helps you achieve your beautiful new smile faster!
Overdentures – No
More Messy Denture Adhesives!
People who wear dentures will tell you that the worst part is having their teeth slip, tilt, or slide while they're eating. They have to use denture adhesive to try to keep their teeth from moving around. This is a major irritant for them. But now, at Advanced Family Dentistry, we offer our denture patients an alternative – overdentures.
With the use of just a few dental implants to support the dentures, your teeth will be "locked" into place so they won't move. Yet they easily snap off for cleaning. Say goodbye to messy creams! Ask us if you are a candidate for overdentures!
Immediate Load Implants –
Another Option
In addition to traditional implants, we are also happy to offer our patients All-on-4™ immediate load implants. With this option, you will need only a few implants, which securely hold permanent dentures in place that never need to be taken out. And the best part is that you can arrive in our office with missing or unhealthy teeth and leave with beautiful, functioning teeth – all in the same day.
New Breakthrough Provides a Solution for More Patients
Do you have dentures because you were told you couldn't get implants due to insufficient bone density? You will be happy to know of a relatively recent breakthrough called mini implants. Mini implants can replace one missing tooth or securely anchor your dentures, eliminating slippage and trapped food. They are placed in one visit and are virtually painless. You can look forward to eating the same day you receive them. Additionally, they can often be placed where regular implants cannot, so you can receive the benefits of mini implants even if you are not a candidate for regular implants.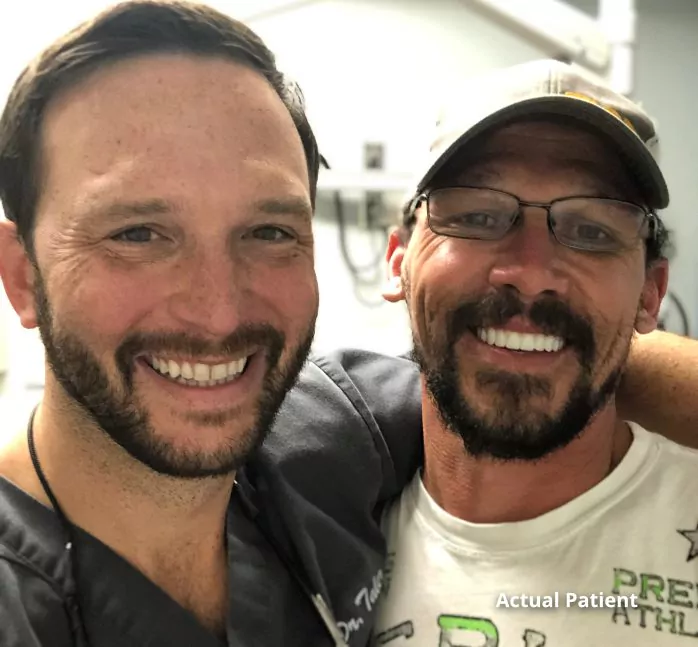 Are You a Candidate for Dental Implants?
Some traits are very important for determining whether you're an ideal candidate for dental implants. Good oral health, with little to no tooth decay or gum disease, is the first factor. Missing or unhealthy teeth can be replaced with implants, but it's advisable for any healthy teeth to remain in place whenever possible. This affects which options are best for a specific patient. The process is not a quick-fix, so understanding the need for healing times and osseointegration of the implant with the surrounding bone is essential. And finally, sufficient jawbone and healthy gum tissue are also needed, though deficiencies in this area can also be addressed. Age, bad habits, and oral health habits all play a role, as well.
Comparing Replacement Options
There are many options for replacing missing teeth, from denture and bridges to the above-described dental implants. How do you know which option is the best one for you? First, Dr. Taler will spend time evaluating your personal dental situation along with your goals and desires. Our team will also help you determine your budget. We'll help you make the best decision for you. Here are some comparisons between replacement options:
Dental implants can replace one, several, or all missing teeth. They help preserve jawbone for the strongest function and the best look. They are also the easiest to take care of and designed to last for a lifetime.
Dental bridges are held in place by crowns on either side of the gap, filling the empty space left by a missing tooth or teeth. They are a faster, less costly fix in the short-term, but are difficult to clean around and need to be replaced periodically.
Partial or full dentures can replace multiple missing teeth, even a full arch, and can be custom made to fit well and look great. They are not, however, able to prevent the loss of bone in the jaw, and eventually, this loss causes the dentures to fit poorly and for the face to take on a sunken look.
Supplemental Treatments for Dental Implants
Some patients are told they aren't candidates for dental implants because of a lack of sufficient jawbone density or healthy gum tissue. But Dr. Taler can evaluate your condition and the possibility of supplemental treatments that can make dental implants possible. One option is a bone graft, which deposits tiny bone granules where needed to encourage growth of jawbone volume. For gum recession or infected gum tissue problems, soft tissue augmentation can be considered. Synthetic tissue can be applied to help protect and cover dental implants.
Technology:
Cone Beam Imaging
Cone beam CT digital imaging technology is like a three-dimensional X-ray that is far more accurate than traditional X-rays, takes much less time, and does all this with much less radiation exposure. The dentist's ability to clearly see the patient's anatomy in 3-D leads to much greater accuracy for all dental treatment, especially implant placement and any oral surgeries.
Schedule a consultation to see if implant dentistry is right for you!